Amazon Echo och HP med siktet inställt på det "smarta kontoret"
Att teknikbjässar som Amazon och HP inte bara har siktet inställt på det smarta hemmet utan nu även vill försöka ta delar av B2B (business to business) marknaden är rätt så självklart vid det här laget. I kampen om det "smarta kontoret" har Amazon pushat sin B2B lösning Alexa for Business i USA och teknikjätten HP släppte tidigare i år appar så att du kan styra din HP skrivare eller printer med hjälp av Alexa, Cortana eller Google Assistant.
Användare kan be HPs Alexa skill att skriva ut Sudokun, bingobrickor eller t.om. inköpslistor eller att-göra-listor vilket låter väldigt praktiskt. Videon ovan och instruktionerna på den här sidan beskriver hur man går tillväga för att använda sig av appen.
HP har även appar till Cortana och Google Assistant men varje app kan skilja sig åt något vad gäller funktioner. Appen för Google Assistant låter dig skriva ut din kalender från Google medans appen för Alexa kan skriva ut din inköpslista från ditt Amazonkonto.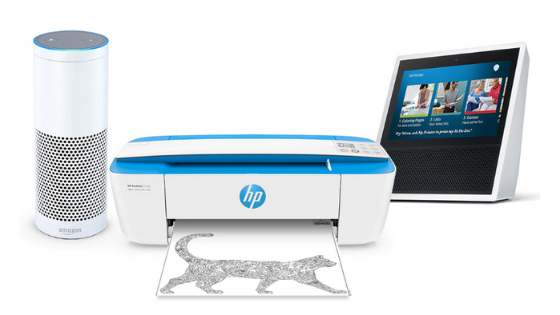 Anneliese Olson som är chef över HPs avdelning för skrivare i hemmet säger i ett uttalande att hon tror att HP skrivare i framtiden möjligen själva kommer ha någon form av röststyrning och kunna svara på röstanrop.
"Att bygga in röststyrning i skrivare är utan tvekan ett användbart sätt att använda den här teknologin" – Anneliese Olson, Chef över HPs avdelning för home printing.
På smartahogtalare.se fortsätter vi att följa hur de stora teknikföretagen använder sig av röstteknologi i sina verksamheter. Läs gärna våran artikel om hur svenska företag som SJ, ICA, H&M Home och SAS använder sig av Google Assistent här.
Om ni letar efter bläckpatroner så vi kan även tipsa om webbhandeln billigastetoner.se som säljer prisvärda toner för just HP skrivare.